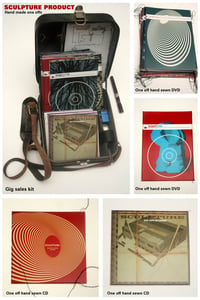 £

10.00
Order CDR/DVDR media here. Our Picture-disc LP, Rotary Signal Emitter, is available via Dekorder and independent stores worldwide...
Music and Animation duo, Sculpture, present CDR/DVDR PRODUCT in unique hand made sleeves.
On the CD, 15 electronic recordings:
1. return to the riviera (listen)
2. plastic infinite
3. spring hook
4. synthetic alteration
5. greenish radiating needles
6. not actual size
7. blasted hillbilly
8. tape hop
9. slot hum (listen)
10. romantick
11. angularly accelerated hurling
12. the blundering operator
13. super resounder
14. vug
15. the horde
On the DVD a hi-res smattering of animation/music/work in progress/subliminal mind control programming, subject to unfathomable whims.
You get both discs for £10. Free postage in UK. For overseas shipping we add £2.
(currently out of stock - though it will be back. you're welcome to email us via sculpture@tapebox.co.uk if you'd like to find out about ordering in future)
Links: